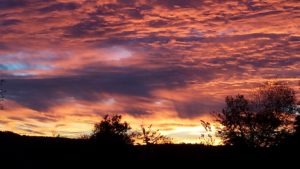 The story of Mulligan Creek Acres starts in 1928 when Paul Mulligan and his future bride , Beatrice Regan emigrated from Ireland via England.  Once married and citizens, they left Brooklyn and moved to upstate New York settling on 35 pastoral acres in the hamlet of Sprakers.  Passing from Paul and Beatrice to their daughter Ann and her husband, Ancel Collins, they raised their family along with beef cattle, pigs and sheep.  Agricultural pursuits ceased in the 1990's.  In 2012, the farm then passed to their son Ancel Collins, Jr. and Tanya Moyer.  Ancel, a mason by trade and Tanya, a health care project administrator looked to once again revive farming activities on the land.  Ancel continues to work construction while Tanya has taken on the responsibility of developing and managing the farm.
Mulligan Creek Acres is now a small scale, natural, pasture based farm.  Committed to sustainable agriculture and providing the animals  a stress free life, Tanya has sought out purebred Berkshire pigs, meat chickens and turkeys for the farm.  There is no use of prophylactic antibiotics, steroids, hormones, pesticides and/or herbicides at the farm.
Tanya's mission for the farm is to rebuild and conserve the land's of Mulligan Creek so the animals have the best possible, natural environment thus resulting in the most flavorful, nutritious food.